Need more flexibility or control over your telephone system?
We have the solution which is low impact and allows you to migrate from your existing telephone system with out any major changes when you are ready.
The first step is to implement a VR-1 Voice Router which is initially used to send all your outbound calls from. Our system automatically stamps the Caller ID with your inbound telephone number, which remains unchanged. This allows you to continue receiving calls over your existing lines.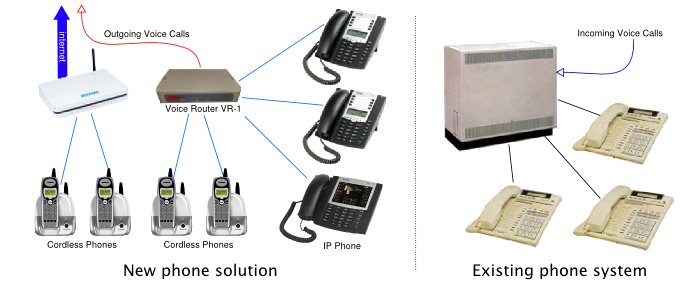 When we implement this solution, you will have 2 phones on your desk. Your existing phone for inbound calls and the new phone connected to the VR-1 Voice Router which you use for outbound calls. This allows you to immediately reduce the cost of your telephone calls by up to 70%.
Once you feel comfortable you have the option of migrating or 'Porting IN' your main telephone number onto our VoIP network.
This allows you to further reduce your costs down to a flat rate of $22/mth for up to 5 simultaneous inbound calls. No more per line costs for line rental. This is a further savings of at least $143.00 per month. ($33 per line x 5 lines - $22 = $143.00 per month).
Our typical customers with 5 lines save an average of $300.00 per month.
Our solutions works best on any ADSL2+ internet connection. See ISP.net.au for great deals on Quality Internet Connections.
Our VR-1 VoIP Router, come with a full money back guarantee. So there is no risk and is only $699.00. The platform is pre-configured ready to use out of the box.
Free support is also included for more information call us on 02 8332 3000 .